Are you traveling for pleasure? are you looking for relax,sun and beach?
Do you need guided tours to experiencing local tourist attractions.
Let's you enjoying your stay in Barcelona with us by visiting:
BARCELONA MONUMENTS AND MUSEUMS :
The Sagrada Família will provide you with a view to Antoni Gaudi's fantastic work, the Museu d'Art de Catalunya will bring you close to the colorful Catalan artists and a visit to museo Picaso,museo maritime ,museo Dali etc..
Park Guell ,Santa maria catedral ,La pedrera,la casa batllo are a must ..
BARCELONA BEACHES:
Over 4 and a half kilometres of beaches with every amenity, invite you to enjoy the Mediterranean throughout the year. The 7 Barcelona beaches are considered among the best destinations for beach lovers and are an attractive point in Barcelona city because they are perfectly equipped with all services, clear waters and white sands.
The Costa Brava  is located to the north of Barcelona, and stretches for more than 200 km from Blanes to Portbou .It is renowned for the diverse landscape of its beaches and coves, the quality of its waters, its excellent cuisine and centuries-old cultural legacy.
SHOPPING:
In Barcelona you will be spoilt for choice of shopping opportunities, there is everything from cheap knock-off products sold to exclusive malls.Wherever you go, you'll see that shops are part of city life. And while you discover unforgettable sights, you'll be welcomed by the window displays of leading international brands, modern designer shops and traditional shops that have been there since time immemorial.
Ramblas can be grouped with Portal de l'Angel and Pelayo Streets as one of the most popular shopping streets for locals and visitors alike.
Paseig de gracia and Diagonal Avenue are the widest and ones of the most important avenues in Barcelona. Its where you can find designer stores like Hermes, Yves-Saint-Laurent, Chanel, Escada and Spanish brands like Purificacion Gracia, Loewe and Camper as well as mid-range brands like Zara, Mango and Benetton.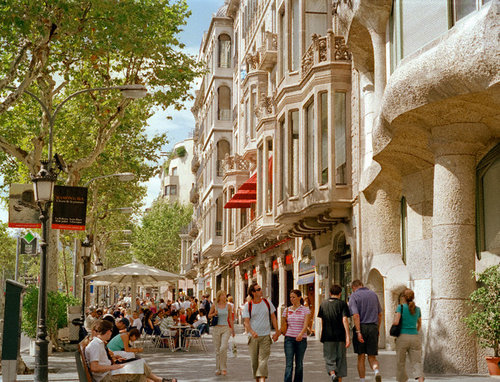 Passeig de Gracia is also the location of several top hotels, cafes and restaurants. The iconic Hotel Majestic is on Passeig de Gracia as well as the Teatre Tivoli and the Palau Robert.
El corte ingles: This is the largest department store chain in Spain.the famous one is located in Plaza Cataluña.
The Plaza Catalunya store houses leading brands like Louis Vuitton, Tommy Hilfiger, Dolce&Gabbana, Burberry, Lacoste, Escada, , Armani, Cartier, Gucci, Ralph Lauren and much more.  Apart from high fashion there are departments selling household goods, gourmet food, perfume, cosmetics, and children's wear. In addition there is a library, travel agency and supermarket in the store.
The famous Malls:
Diagonal mar:
Glorias :
Gran via 2 :
La maquinista:
La illa
Arenas Plaza España:  is new shopping and entertainment complex; it is located close to Placa d'Espanya and the public can visit the rooftop observation terrace to get views across the city.,has 6 floors, and 116 stores. In addition this complex offers many diversions including cinemas, shops, restaurants, the Rock Museum of Barcelona, a sport center, concert hall and cafes.
La roca village: La Roca Village is one of the Collection of nine Chic and luxury Outlet Shoppingin the world ,its open from Monday to Sunday .
The roca Village is home to an unrivalled mix of both quintessentially European and international fashion and luxury brands, which offer their authentic previous seasons' collections with savings of up to 60%, and sometimes more, on the recommended retail price throughout the year.

Kalvin Klein, Pepe Jeans,Adlofo Dominguez, Escada, Hugo Bos, Gucci, Michael Kors, la coste, Catimini, Old Ridel, Ralph Lauren, Roberto Verino, Sandro, Spazio, Tommy Hilfiger and Yves Saint Laurent are just a few of the brands that have chosen to open boutiques within the Collection of Chic Outlet Shopping Villages.
BARCELONA SPORT :
Barcelona is: hockey, athletics, equestrian events, tennis, Formula 1, Fotball Barcelona Club…
the list is spectacular. The Barcelona Sports programme promotes the main international sporting events held in the city for exemple: 13-15 June :Gran Premi de Catalunya de Moto GP,6-11 September Copa del Mundo FIBA 2014 .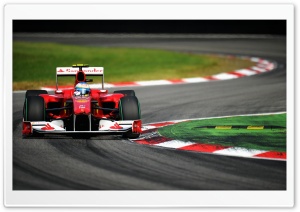 Camp Nou:
The FC Barcelona is 'més que un club' ('more than a club') because it is the football club most representative in the country and one of its greatest ambassadors.
The Camp Nou Experience has become a must for all those visiting Barcelona. The tour offers the chance to visit the most emblematic areas of the Stadium: the vestry and the players' tunnel, the press room, commentators' booths and obviously the Museum. This is currently a very modern football museum with interactive murals, and thanks to the latest titles, the stadium of FC Barcelona has become one of the most visited in Spain.
TOP ATTRACTION WITH FAMILY AND KINDS :
You can't imagine what Barcelona has to offer.
Imax Port Vell:
The leisure potential of Barcelona's Port Vell culminates at the IMAX, the large-screen cinema on the Moll d'Espanya quay. It was designed by the architects Enric Sòria and Jordi Garcés, This was the first of these innovative venues to open in Spain, and is perfect for anyone looking for leisure and a thrilling cinematic experience away from the noise and bustle of Barcelona.
The Magic Fountain :One of the most photographed attractions in Montjuic and all of Barcelona! It was built for the Universal Exhibition of 1929 by the engineer Carles Buigas
The spectacular combination of colors, lights, water and music will make your visit to Montjuic unforgettable.
 L'Aquàrium de Barcelona:
The Aquarium of Barcelona is one of the largest aquariums in the world. It houses more than 11,000 fish and sea creatures from 450 different species.
A visit to the aquarium is a great way of spending some hours and is an attraction which children especially will enjoy.
Parc d'Atraccions del Tibidabo:
It is an amusement park, a magical place in Barcelona. It ​offers 25 rides for all ages: children, and adults alike. Besides serving as a fantastic viewing point at 500m of altitude, where you can enjoy breathtaking views of all of Barcelona, the park also offers its visitors others services like many restaurants with incredible views, picnic areas, and all facilities to spend a memorable day with family.
 El Poble Espanyol:
Created for the International Exhibition of 1929, the "Poble Espanyol" is a village that represents the most beautiful corners of various areas of the Spanish geography.
Zoo de Barcelona:
Barcelona Zoo has been wowing its visitors since 1892 and as a result is one of the oldest zoos in the world. Situated in the Park de la cuitadella. It houses many species of mammals, birds and reptiles. There's also a train for children, a restaurant and a shop to buy souvenirs after the visit.
GASTRONOMY:
The cuisine of Catalonia is part ofthe Mediterranean diet and, as such,includesa varietyof seafood, mountainandgarden products.Catalan cuisinehas made aseries ofdishes thatare known indifferent parts of theworld:The paella ,Tapas.etc..
It should be noted that Catalonia offers a variety of restaurants with cuisine from all Spanish regions, as well as international cuisine. Barcelona is the city with the greatest number and variety of restaurants. It has a total of nine stars "Michelin" and is the first of the list of Best Cities culinary in the world.
NIGHT LIFE:
Barcelona is a city known for its amazing nightlife. There is a huge variety in bars, pubs and clubs. From a tiny, cozy traditional Spanish bar to a lot of different amazing clubs. The entrances for the clubs vary from 10 Euros to a maximum of 25 Euros. Although you can gain free entry into many of the top venues on special guestlists that are open for anyone to use, (Okeyholiday-list).
Top bar recommendations are: Shoko, Sotavento,Carpe diem,pacha,etc..
Club Sutton has the reputation for well dressed and great looking crowd of clubbers. You will find this club in the district of Sant Gervasi.
Razzmatazz is a very large and popular nightclub with lots of events.
Opium Mar is a luxurious lounge club at the seafront of Barceloneta. The music varies from Hip Hop, R&B to House and Chill-Out, and is also well known for its extraordinary theme nights.