Marrakesh is more than just a city. It is a pearl polished by history and its tradition of hospitality which, for centuries, has known how to welcome visitors.
The charm of Marrakesh :Art and History:
You will find a friendly and total change of scenery in the imperial city. Its secret is its genuine and unspoilt charm and its splendour and simplicity:
You can find thousands of foodstuffs, fabrics and handicrafts  in the medina and its souks which are enclosed by fabulous 12th   Century remparts.
Here everyone attends to his affairs, as he has for centuries. In an unchanging but, nevertheless, modern world where, in the Place Jemaa El Fna, for example, mobile telephones can be heard ringing among the shouts of an acrobat amusing the crowds.
This place is a rallying point which never empties. You can find some calm, far from the crowds, in the Arabo-Andalusian garden which houses the Saadian Tombs. You should visit the richly decorated rooms of these two mausoleums which are just below the superb minaret of the El-Mansour mosque.
To see and to do in Marrakech:
There is much to see and do in Marrakech. An entire day can be dedicated to wandering around the souks, seeking out the best bargains. The city offers several historical and architectural sites as well as some interesting museums.
The square of Djemaa El-Fna:
Is the highlight of any marrakech night.musicians,dancers,and story tellers pack this square at the heart of the medina.
By day it is largely filled with snake charmers and people with monkeys.
 
 The place is known for its active concentration of traditional activities by storytellers, musicians and performers, but it was threatened by economic development pressures. In fighting for the protection of traditions, the residents called for action on an international level, to recognize the need for the protection of such places — termed "cultural spaces" — and other popular and traditional forms of cultural expression.
UNESCO encourages communities to identify, document, protect, promote and revitalize such heritage. The UNESCO label aims to raise awareness about the importance of oral and intangible heritage as an essential component of cultural diversity.
The spectacle of Jamaa el Fna is repeated daily 365/365 and each day  it is different. Everything changes — voices, sounds, gestures, the public which sees, listens, smells, tastes, touches. The oral tradition is framed by one much vaster — that we can call intangible.
The Square, as a physical space, shelters a rich oral and intangible tradition.

Visit The Palmeraie:
Palmeraie is the green lung of Marrakech. It is a real oasis on the outskirts of the city.
La Palmeraie covers 13,000ha and has about 150,000 palm trees and some hotels. It is the perfect place to take a nomadic space of a few hours during a camel ride.
During the course of your 20km journey you can admire the palm trees, beautiful villas and with a little luck a international star resort in Marrakech.
  The Souks:
Or markets of Marrakech, just adjacent to Place Djemaa El-Fna, are where you can buy almost anything. From spices to shoes, jellabas to kaftans, tea pots to tagines and much, much more.
Tanneries :
Visiting the Tanneries can be an interesting experience.. The tanneries are at the east end of Avenue Bab El Dabbagh. That 'main' tannery, Dar Dbagh, where they seem to channel all the tourists is near the Bab Debbagh gate.
Koutoubia Mosque: 
Right besides Djemaa El-Fna, is named after the booksellers market that used to be here. It is said that the minaret of the Koutoubia mosque is to Marrakech as the Eiffel Tower is to Paris. The minaret is visible from Gueliz which is connected to the Medina by Avenue Mohammed V. At night, the mosque is beautifully lit. As with most mosques in Morocco.
Saadian tombs:
Its were not discovered until the beginning of the 20th century.
They have been preserved just like they were during the glory days of the Saadian rulers. Unlike the El Badi Palace, they were not destroyed, probably for superstitious reasons. The entrance was blocked so they remained untouched for hundreds of years. Inside you will find an overload of Zelij (Morrocan tiles) and some beautiful decoration.
Majorelle Gardens:
The park boasts a collection of plants from across the globe, including what seems like every cactus species on the planet. Get here early to avoid the crowds. Inside the gardens is also the very small Berber Museum, The Majorelle Café inside the gardens is a pretty and quiet place to rest and get a drink and some food.
Dar Si Saïd Museum:
Is a museum 5 mins away from Djemaa El-Fna. Set in an old palace, it houses many different artifacts from Morocco through the ages, such as wood carvings, musical instruments, and weapons. It is dedicated to the Moroccan craft industry of wood, gathering a very beautiful collection of popular art: carpets, clothing, pottery and ceramics. All these objects are regional, coming from Marrakech and all the south, especially from Tensift, High Atlas, Soussthe, Anti Atlas, Bani, and Tafilal. The interior decoration is quite similar to the El Bahia .
El Bahia Palace:
Is an ornate and beautiful palace, popular with guided tours and stray cats. The palace is well worth a visit and gives a great impression of what it must have been like to be a 19th century nobleman in Morocco. There is a nice garden with banana flowers, tranquil courtyards, and other lovely plants.
 Ben Youssef Madrassa:
Is one of the largest Madrassas in the North Africa. It is a school attached to the Ben Youssef Mosque and is home to beautiful art and architecture.
El Badi Palace:
Is now in ruins and inhabited by storks and stray cats. There are some underground passageways to explore. The view from the terrace is majestic.
 The menara :

The Menara gardens, which are west of the city, and consist of a mixture of orchards and olive groves surrounding a central pavilion which is a popular sight on tourist postcards. The pavilion was built during the 16th century Saadi dynasty and renovated in 1869. It has a small cafe.
Marrakech relax:
 Hammam and Spa:
A visit to the Hammam is a genuine cultural experience for those traveling in Marrakech, as real as the souks and medina. Hammam and massage provide an overall well-being, both for the body and the spirit.
The essential oil massages are practiced since ancient times. Combining the benefits of massage itself and the benefits of essential oils aromatherapy offers relaxation, stimulation, relief, immune protection and pleasure. Combined with argan oil, they will add softness to your skin.
Okeyholiday can reserve for you in one of the most famous hammam in Marrakesh with extensive list of massages and spa treatments from 30 min to a full day. Reception and attendants are proficient in English
Hammam Dar el-Bacha
Hammam Bab Doukkala
Thai marrakech is an institute is a beauty center based in the heart of Marrakech. His team is a graduate of the famous school of Wat Po in Bangkok. The center offers several Thai massage relaxation with a traditional Moroccan hammam natural products.
Marrakech gastronomy :
Each night in the Djemaa El-Fna rows of street stalls are set up under giant white tents. These huts serve similar fare and have menus printed in French, Arabic and usually English. Everyone has tajine, couscous, brochette and soups. Some have specialties like offal, egg sandwiches or special tajines.
We can reserve for you one table in one of one long restauranst list in the city :
Cafe Alhamra:
Located near  Pl. Djemaa El-Fna, it serves up salads, pizza, and pasta as well as a tagine of the day. Their rooftop is a good place to have a late night coffee and pastry while watching the events in the square below.
 Chez Chegrouni:
Located near the main entrance to the market. Maybe the best cheap restaurant in the square. Their vegetarian couscous (3€) is supposedly the only true vegetarian couscous in town; it's bland but they give you plenty of it. Prices go up if you sit on the terrace. Usually packed full of good-time tourists.
Cafe Arabe:
Located in the medina. They have a Moroccan and an Italian cook, so there are two menus to choose from. There is beautiful seating on three floors including the downstairs courtyard which is lovely for lunch. The top floor terrace has fantastic views over the medina and is great at sunset. You can lounge on their sofas whilst sipping a cocktail or glass of wine and watching the sun go down over the medina.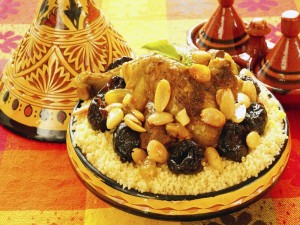 Chez El Bahia
Located  50m away from Djemaa El-Fna on Rue Riad Zitoune (the street that starts at Wafa Restaurant). It has excellent and well priced food in a quiet place. Try the chicken and olives tajine as well as the prune, almonds, and mutton tajine.
Le Marrakchi :
Is opposite the market and adjacent to the newspaper stand. is one of the poshest restaurants in the square with an most beautiful view.
16 cafe:
Is considered one of the better restaurants in Marrakech city. Discover and enjoy the Moroccan kitchen and passing good times. 16 coffee is caterer of event and wedding in marrakech.
Chez Ali:
Enjoy an amazing night of entertainment at the Chez Ali PALACE on the outskirts of Marrakech. Let's you live this experience, the sights and sounds of musicians and dancers Moroccan, whilst having a 5 course meal in a tent.

Behold the amazing riders Chez Ali Fantasia show
Enjoy a typical Moroccan menu in a tent
Listen to the stories of the Berber folklore
Contemplate daring acrobats and stunt riding
be carful for flying carpets!
Accomodation in Marrakech:
Marrakech has an amazing choice of places to stay ranging from tented camps outside Marrakech to cheap hostels and hotels that can be charming or seedy to luxurious kasbahs in luxurious gardens or the traditional riad.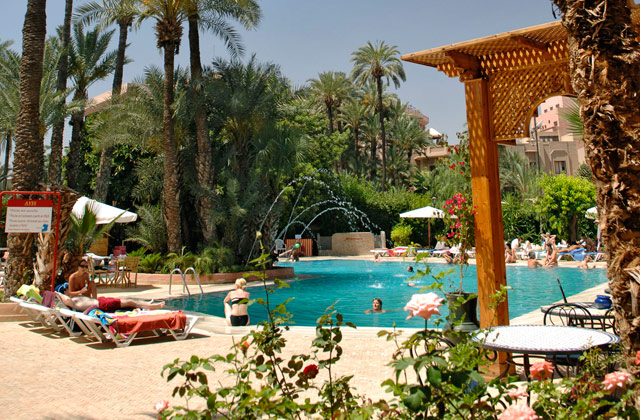 Wherever you to stay it really is a must to visit one of the riad hotels to see this amazing style of architecture .In some riads we can book for you a lunch or dinner without being a resident provided that the riad is not privately rented. For example see Riad Cinnamon, Riad Laksiba and Riad Lina and Spa ,riad la maison rouge .
The tourist who look for the luxury and the exclusivity we can reserve for him one special suite in one this luxury hotels list:
Hotels and Riads:
Selman:
El Saadi Gardens and Resort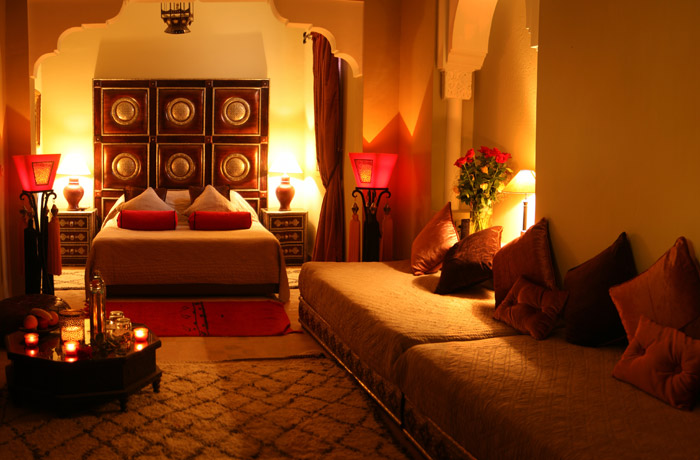 Jnane Tamsna
Palais Namaskar
Hotel La Mamounia
Palmeraie-golf-palace-and-resort
The most of our riads located in the the Medina (old grand houses converted into hotels and inns). Riads should have gardens; smaller Dars have open courtyards.
However, the term Riad is used very loosely today to describe a house with an internal open-air center. These are wonderful places to stay to get a feel for life in Marrakech.
The most of our riads has: swimming pool,Spa ,restaurant,terrasse with a nice view.
Marrakech Nightlife :
Marrakech has something of a reputation for its nightlife, which covers groovy Ibiza-style discos to belly-dancing. Music is at the heart of cultural life in Marrakech.
Marrakech is almost certainly the best place to enjoy the fusion of Moroccan music, as the city has been the host to Andalucian, Arab, Berber and African influences for up to 10 centuries.
The medina provides traditional evening entertainment in the form of cafés, food stalls and street entertainment, with everything revolving around Jemaa el Fna, where many of the best performers are often to be found.
For happening bars and clubs, head for Guéliz and Hivernage.
Clustered along Avenue Mohammed V, particularly around place Abdel Moumen ben Ali, are most of the city's bars, as well as a wide variety of restaurants, bistros and sidewalk cafés.
The city's best nightclubs are located in Hivernage hotels or in venues just outside town.
Okeyhoiday can reserve your table in one of this clubs:
Clubs in Marrakech:
Theatro:
Although Marrakech has a reputation within Morocco for nightlife, clubs are an expensive extravagance where behaviour doesn't conform to strictest Moroccan codes of propriety. Music tends to be a mixture of Western pop music, Moroccan hits and funky DJ mashups. The slightly camp Theatro has an easy-going party atmosphere and a dance floor
Le Salama
This is one of the hottest places in Marrakech, attracting diners, drinkers and dancers. Housed in a period colonial building, this sumptuous club offers Moroccan lanterns, dark floors, mirrored walls, ornamental woodwork and views of the Atlas Mountains.
Pacha Marrakech
Pacha Marrakech is the nightclub with the magnetic pull to attract DJs away from New York and Amsterdam and playboys and partiers from Casablanca and Ibiza, so on the right night you won't begrudge the taxi ride from town. The place has a capacity for 3,000 but during the week it echoes. At weekends you'll be lucky to squeeze in, even in your best club attire. It houses two restaurants, a swimming pool and a chill-out lounge.
Live Music in Marrakech
African Chic
African Chic hosts live music nightly in Marrakech. It offers two huge bars, a great cocktail menu and an explosive atmosphere. Keep an eye out for celebrities – Keanu Reeves once popped in for a night out.

Jemaa el Fna
Anyone with even a passing interest in music should head straight for Jemaa el Fna. The best time to go for music is in the mid- to late evening, as the square gradually empties and the dedicated street musicians take over, playing their repetitive, rhythmic melodies on a mixture of banjos, lutes, guitars, flutes, drums and makeshift violins.
The most enchanting of the styles on offer is Gnaoua trance music, best exemplified by the internationally-renowned band Nass Marrakech, which formed in the city. This music, a blend of African styles that derived from freed slaves' songs, combines repetitive rhythms and choric voices to create a trance-like awareness of the present moment in the listener.
Music and Dance in Marrakech:

Théâtre Royal
More formal cultural events take the form of festivals, although there are some performances of opera and dance in the open-air amphitheatre of the Théâtre Royal in Guéliz
 Taj Mahal 
Casino
Not far of Marrakech :Okeyholiday offers you one of this tour- day trip in Desert and hight atlas: 
Going to the desert :
One of the best experiences to really not miss when you are in Marrakech. You can go to the Marzouga dunes and spend one night or more there. It's an exotic and authentic experience. To make this adventure easy, your desert trip can be organized by okeyholiday guide who speak your language.
Amizmiz:
With one of the largest Berber souks in the hight atlas mountains every Tuesday, Amizmiz is well-worth a trip. This is especially true for those travellers wishing to experience the less urban, less touristy mountain towns of the High Atlas.
Asni :
A lovely rural village in the Atlas mountains.
Oukaimeden : Ski lift at 4440m. The snow falls in the mountains just south of Marrakech every winter.. Wealthy people from all over southern Morocco have since long learned to enjoy skiing in their own country. This has given the ski resort, Oukaïmeden, a distinct Moroccan touch, too. You don't need to bring your ski equipment from home, all you need can be rented. Oukaïmeden and the areas around are some of the greatest in Morocco, with four seasons, and ever-changing nature. it is probably too well known for winter sports. But staying here a day or two is a real treat.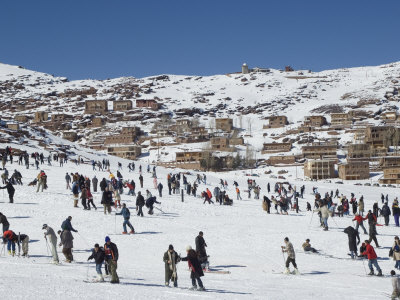 Ourika Valley:  in the Atlas Mountains. Tours involve stopping several times en route to the valley to look in tourist shops, a Berber house, and a collective run for women who make products out of Argan oil — all very interesting! Tours will include a walk to visit the waterfalls. The journey can become difficult, so wear good walking and/or climbing shoes — suitable footwear is imperative. Think of clambering up rocks at the side of the river and eventually criss-crossing over wet rocks to travel up the mountain.
Setti Fatma:
A village at the end of the proper motor road up the Ourika Valley. The residential part is above the road. The attractions are the lovely valley scenery and a walk to seven waterfalls  or for most day visitors one waterfall from which the others can be seen.
Lalla Takarkoust :
Make an unforgettable picnic day at Lala Takerkoust lake located just 30 min away from Marrakech. This place is well known as the heaven of peace and coolness; and it is an ideal place for a quick escape from the heat and noisiness of the red city , the Lala Takerkoust Lake is beautiful scenery to enjoy many activities at the bottom of the Atlas Mountains, for instance, Jet Ski, Quads, and Buggy, Walking, Swimming in the pool or having dinner or lunch at a traditional restaurant there or move to a Berber tent under the stars.
Desert Agfay : 
is located about 40 kilometers on the outskirts of Marrakech, ideal for travelers who do not have many days to see the Sahara, but want to sleep in a tent under the moon, and enjoying a camel ride.
Agadir : On the Atlantic Coast this is Morocco's main port city and is about 2 and half hours drive from Marrakech. The city was destroyed in the 1960 earthquake and was rebuilt in a modern 60s low-rise style. It has wonderful beaches and is much cooler than Marrakech, perfect for those who want to relax on the beaches, wide range of restaurants, bars and clubs, world class golf courses and has all the facilities that the modern tourist demands.
Essaouira : A fortified town on the Atlantic coast of Africa, about 3 hours by car/coach from Marrakech, for one day is more than enough to visit the biggest attraction here is the small Medina, which is a much more pleasant experience than the Marrakech Medina — with almost no harassment from traders, scam artists or pan-handlers. There is a beautiful beach to enjoy and you can explore the 18th century port.