LA COSTA BRAVA:
The Costa Brava is about sun, beaches, coves surrounded by nature, refreshing dips in crystal-clear water, peace and calm, strolls along coastal footpaths, charming fishing villages.
The Costa Brava is a vacation paradise that offers fantastic beaches, beautiful bays and coves, picturesque villages and exciting towns
Located 94 km away from Barcelona , the Costa Brava — which means 'Wild Coast' — offers the best of Spain: a mixture of old-world charm and modern-day excitement.
Whether you want to relax at the beach, hike mountains, engage in water sports, go shopping or enjoy fine dining — you can it all at right here in Spain's most popular tourist destination.
Villages:the most beautiful villages to see on the Costa Brava:
Cadaqués:
The beautiful fishing village of Cadaqués is referred to as an island on the coast. because it is relatively protected from mass tourism by a long, winding road through the mountains of Cap de Creus.
The place has a distinctly bohemian-chic feel to it, and is known as a meeting point for artists, intellectuals and free spirits such artists as Picaso and Salvador Dali who in 1930 settled in the tiny nearby village of Portlligat. His house or rather, series of interconnected houses has been turned into a museum: Casa-Museo Salvador Dalí in Cadaquès.
Roses: is particularly popular for its splendid beaches, and loved for its unique location: it is the only beach resort facing west, which means tourists and locals alike get to enjoy fantastic sunsets across the Gulf of Roses.
El Port de la Selva :is a seaside village in the comarca of the Alt Empordà in Catalonia, Spain.
Overlooking a bay by the same name, the village is situated on the northern coast of the Cap de Creus and is an important fishing port and tourist center.
Empuriabrava : is one of the most unusual towns along the Costa Brava.
Sporting nearly 24 kilometers of canals, and 5,000 private jetties, Empuriabrava is the largest residential marina in the world.
That said, reminiscent of Venice or Miami Beach, Empuriabrava is a major, upmarket tourist destination. It is particularly popular with Germans and the French,Dutch and British visitors as well.
Lloret de Mar:Located in the heart of the Costa Brava, where you can find the perfect destination for incentive trips and teambuilding activities. It offers various programmes of entertaining activities designed to reinforce team spirit while the participants explore the city and its surroundings.
For a whole host of reasons, Lloret de Mar is one of the most popular holiday resorts on the Costa Brava, and particularly because of its wide range of tourist attractions and its coastline.
SPORT ACTIVITIES:
Walk, ski, run, pedal, play, sail, jump, swim and, above all, experience the Costa Brava and the Girona Pyrenees while doing what you like the most. Everything is in place for you to come and enjoy your favorite sports at any time, thanks to a great climate suitable for activities all year round and the most fantastic natural settings that you can imagine, from the high mountains down to the sea.
Nautical activities:
The Costa Brava offers you more than 200 kilometres of coastline, 17 marinas, over 30 diving centres, sailing and windsurfing schools, and three natural parks, including the important MedesIslands marine reserve in Estartit Village;
AnteriorsSegüentsKitesurf : Plenty of space, companies offering courses, places to hire equipment and, above all, great waves and breezes
    SAIL: sailing on yachts or on catamarans on the Costa Brava. to enjoy the wonderful  sensation of sailing.
Boat trips: are a great way to discover the beauty of the Costa Brava coastline. They are ideal for visiting coves that cannot be easily reached by land, for admiring seaside towns and villages from a different perspective .
Boat hire:Experience the unique sensation of sailing along the Costa Brava. On board a sailing boat, with wonderful views of the scenery
Water ski: is a classic water sport on the Costa Brava. After a few sessions at one of the area's specialised centres you'll be enjoying the sensation of speeding over the water.
Kayak: You can visit hidden caves and small coves that can only be reached from the sea and let yourself be carried along rivers and feel their calm.
GOLF:
More than ten golf courses. Nine magnificent facilities open all year round. Nine gems located on the Costa Brava and in the Pirineu de Girona for those who dream about teeing off and sinking putts.
BIKE TOURS:You can explore spectacular natural parks and charming mountain towns, or experience sensations of freedom and the rush of adrenaline with other disciplines such as downhill biking,MOUNTAIN BIKING,CYCLE TOURING.
LEISURE IN COSTA BRAVA:
water parks: Its where you can spend an enjoyable funny day with your family and friends.
CASINOS : Try your luck in one of the casinos set in the region ,the most famous one is Peralada castle casino.
Thermal waters, spas and health resort: Massages, saunas, relaxation are pleasant sensations on the Costa Brava and in the Girona Pyrenees .Wellness enjoys a long tradition in this part of the world thanks to the mineral-medicinal waters of several towns in the province of Girona, such as Caldes de Malavella, Sant Hilari Sacalm, Viladrau, Vilajuïga, Amer or Ribes de Freser.
WINE ROUTE:
You can discovering all the secrets of red, white and rosé Empordà wines in wine tourism experience in Empordà on the Costa Brava
Gatronomy :
Excellence, prestige, innovation, creativity, experience… The province of costa brava boasts 16 restaurants with 20 Michelin stars between them, reflecting an exquisite combination of culinary tradition and creative spirit,the most one is :Restaurante Bulli located in Cala Montjoi with the best chef in the world :Ferran Adria .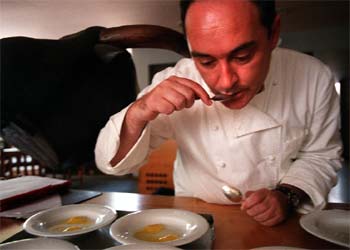 (Ferran Adrià Acosta (Hospitalet de Llobregat, Barcelona May 14, 1962) is a Spanish chef considered by many as the best chef in the world.
Time Magazine has  included  Adrià in the list of the 10 most innovative characters  in the world in 2004 . Adrià has been chef and co-owner until 2011 the late Spanish restaurant El Bulli (Cala Montjoi, Gerona)
        We offer semilar services in costa dorada and costa del sol